Here the halloween party update on 31/10/2009 at zeming's hse!:
some of us came early to help up in the decoration!
Justin very happy with his black nails.
after all the hard work of pulling the spiderwebs all over the place:
And the party begins!:
The pyjamas girls!
Make up session for girls!:
i think make up is not only for the girls that day too.HEE:DD
Ninja master and The wu she finger hole Master xiong.
Our beautiful scary Corspe bride!
"Spank me!"
chao gui tiao uncle kaiwen :D
woof!
MEOAWWWWWWWW RAWRRRR!
Happy with our black nails :DDD
And HAPPY BIRTHDAY TO PEARSON AND SARA!
Camwhore session time!:
Corpse bride and Chucky's sister!
ONE BIG BLACK FAMILY!:DDD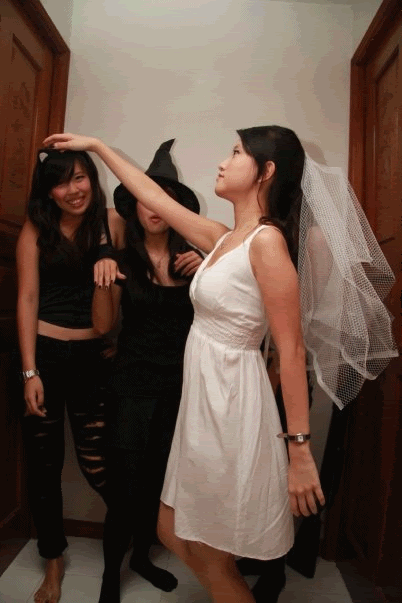 itchy witchy with her two black cats!:
MEAOWWW~
she finally found her broom!
All the pictures credits goes to zeming!
This is my first time attending a halloween house party
and i enjoyed myself be it with the games or the dressing up!
and must thanks wanling for organising this party!
Hope everyone had enjoy themself at the party too!:DDD